Carbon-neutral Shipping
We Donate
Regular price
Sale price
$59.00 USD
Unit price
per
Sale
Sold out
Classic dots pattern
FSC certified, 100% bamboo product!
370 sheets,Sheet size 10*10cm
3-Ply strength,2X absorption!
Soft & Strong toilet paper made sustainably!
No inks, no dyes. No BPA. Just natural bamboo paper!
Plastic-free packaging, even the tape!
Septic safe and biodegradable!
Each Supreme Roll are 4X stronger & more durable!
tear neatly
Legend has it the average person uses 1.5 rolls of toilet paper per week! We have calculated 1 person will use around 2-3 Lovely Poo Poo rolls/month!
All Lovely Poo Poo Products ship for free! Currently, Lovely Poo Poo only ships to the continental U.S. and does not offer to ship to Alaska, Hawaii, Puerto Rico, or other countries. Free Eco-friendly shipping typically arrives 3-7 business days after the order has been processed, but this ETA may vary based upon weather conditions or holidays.
Our goal is to make it easy for people to switch from traditional toilet paper to 100% bamboo TP. We understand that your bottom might be used to a mega-extra-plush paper brand made from trees and you might think you're not brave enough to switch to 100% bamboo. But we believe in the quality of our product, and we believe in you! We're confident you're gonna be happy wiping the Lovely Poo Poo, but if for any reason you find that 100% bamboo TP is not for you - just return it to us for a full refund. You have 30 days to decide.
View full details
TOP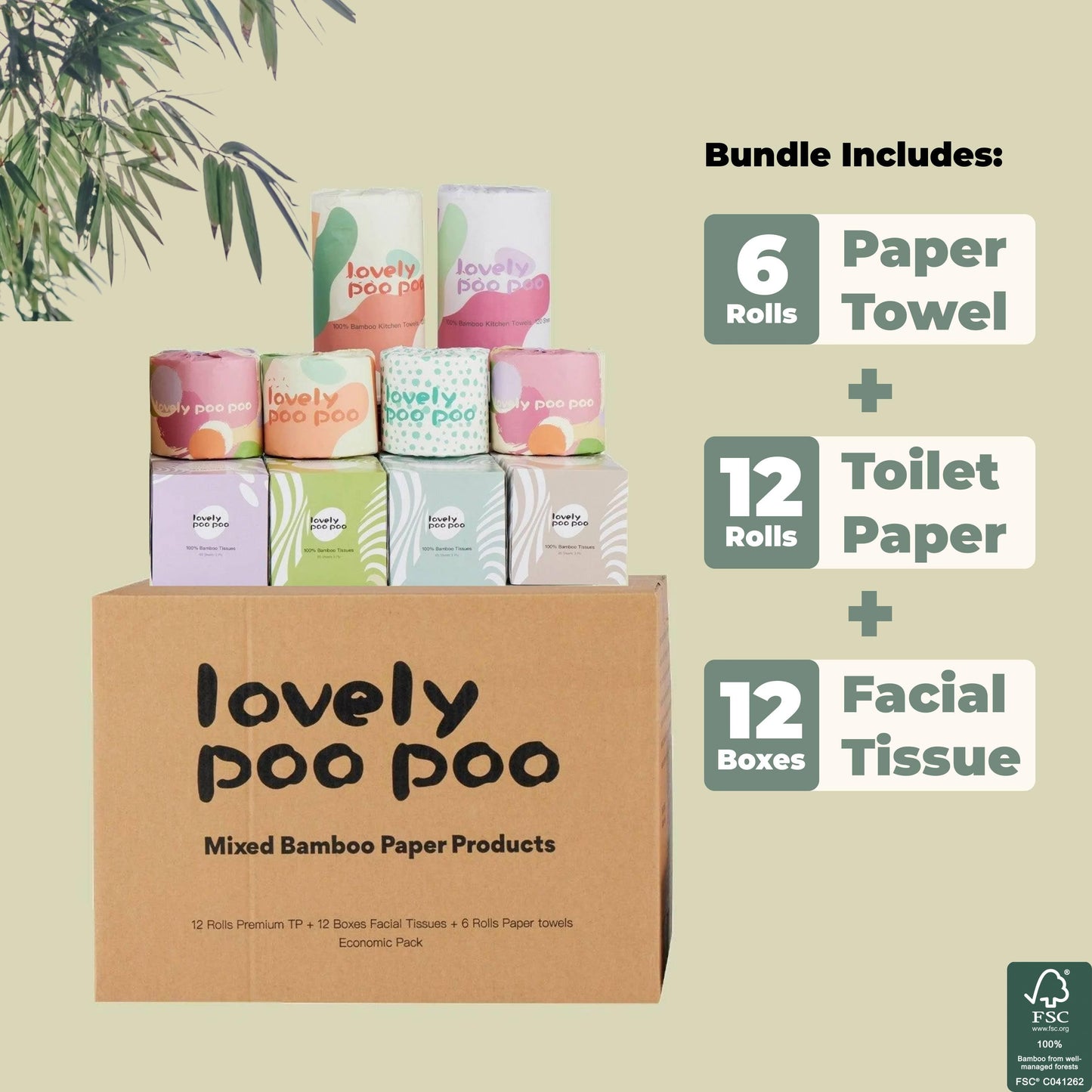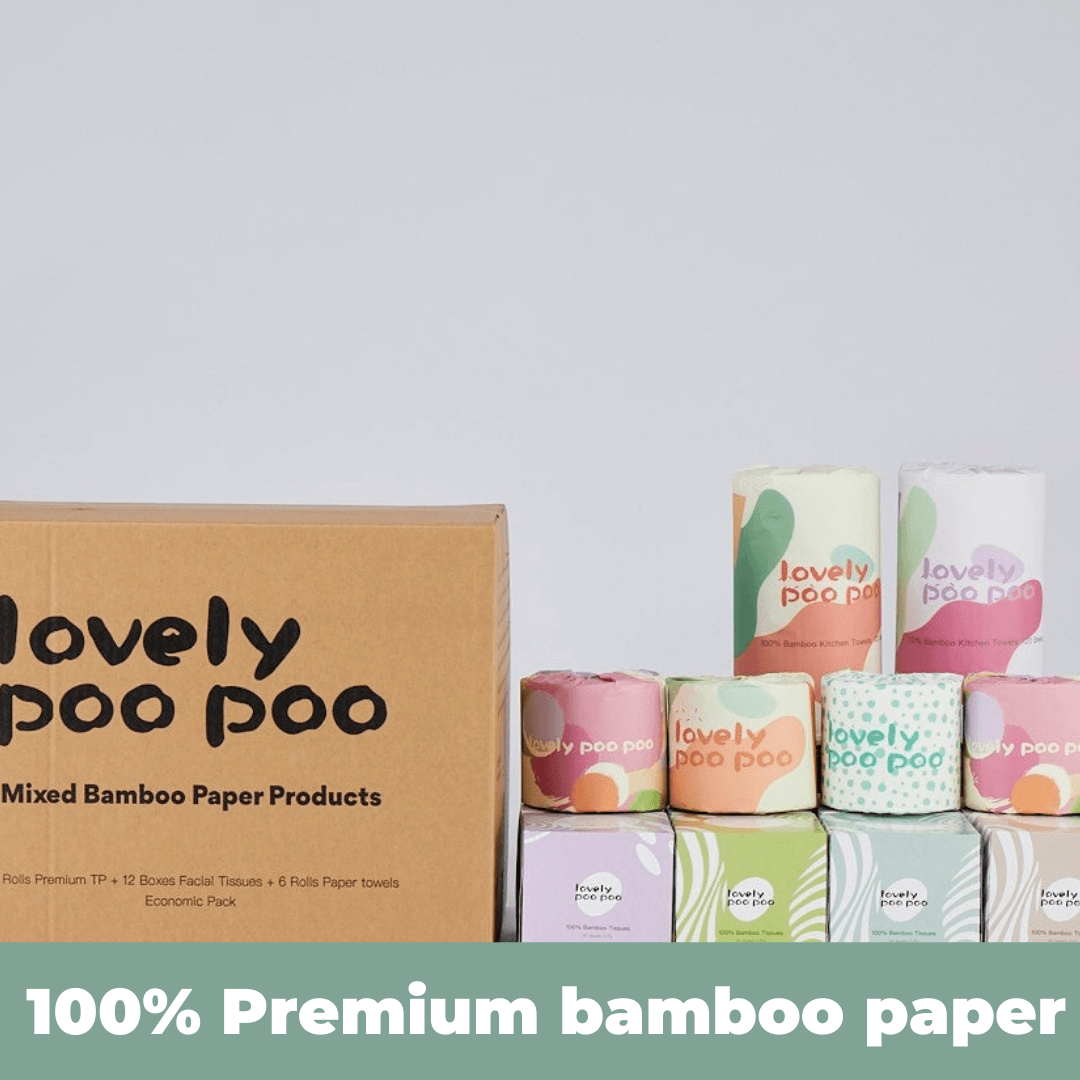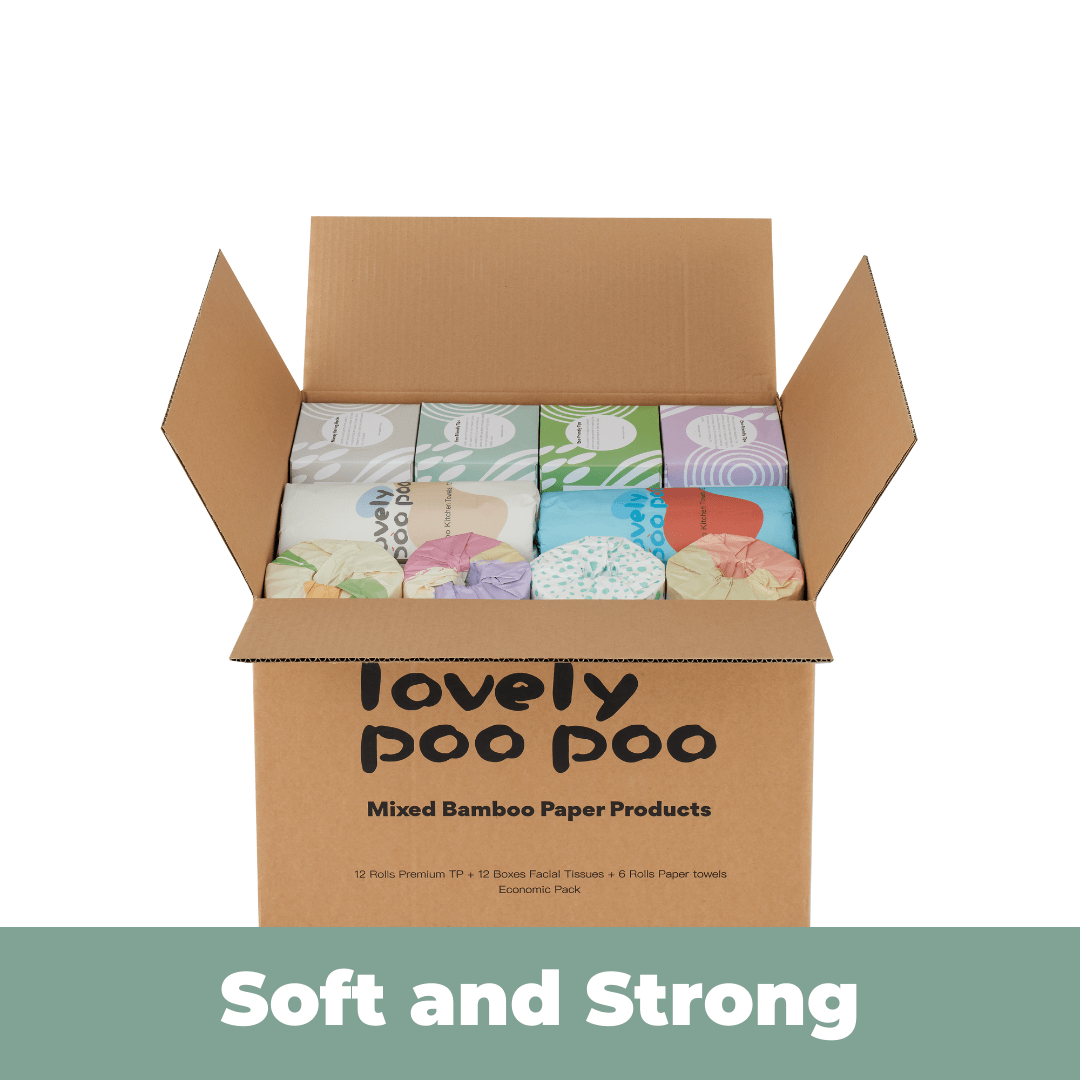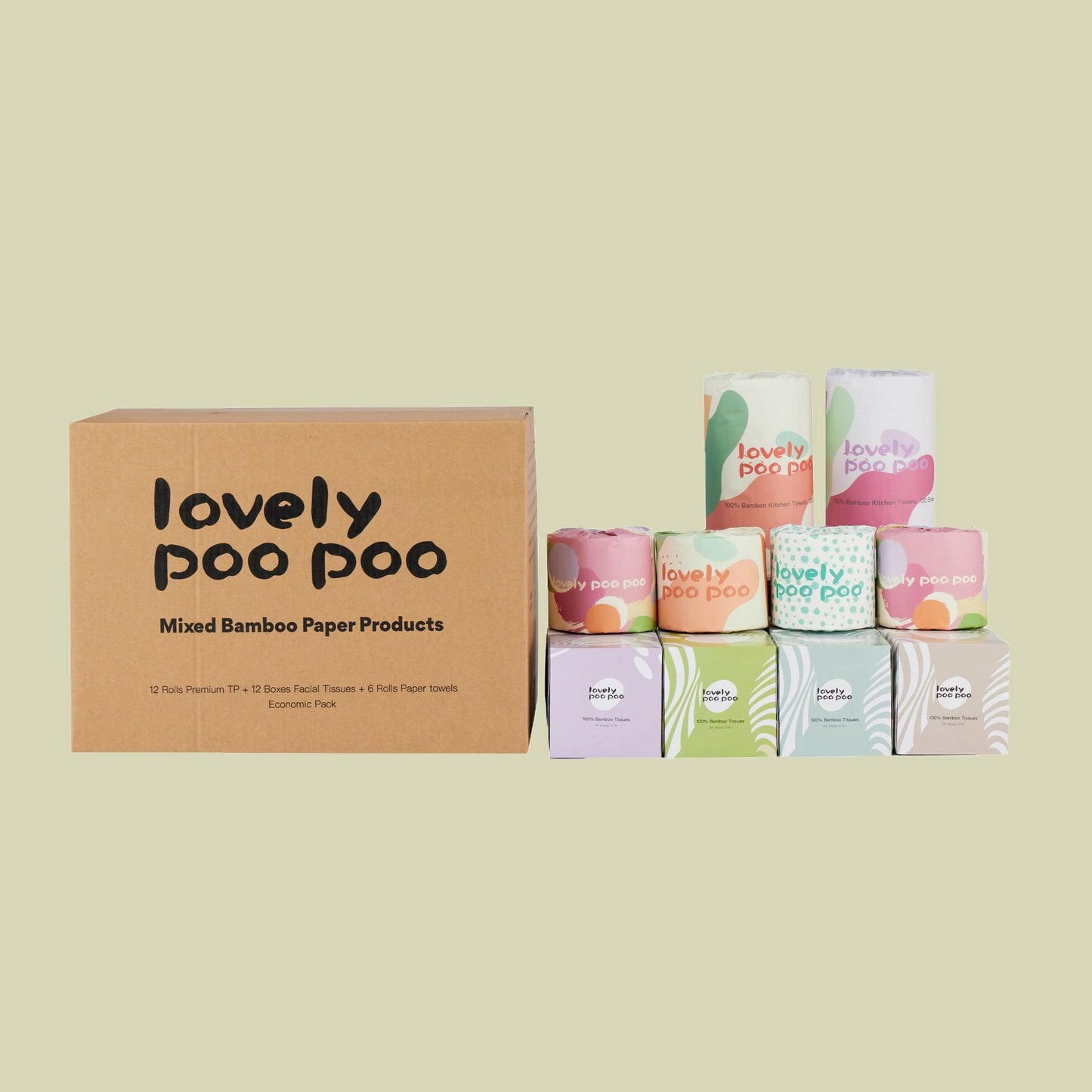 Super Soft

Embossed for that extra softness

Premium Bamboo

Made of FSC certificate premium bamboo fiber

Fragrance free

No Ink, No dyes, and no BPA. Perfect for sensitive skin

No Butt Crumble

3-Ply & 2x absorption. Does NOT rip or crumble in use.

Septic Safe

100% Biodegradable and will quickly dissolve in water itself

Plastic-Free

Wrapped with bamboo paper, Plastic free packaging
Why People Love

Lovely Poo Poo
Our Bamboo Paper is soft yet strong, meaning that a little goes a long way.

To remove plastic but still provide protection, each roll is individually wrapped in bamboo paper using naturally occurring colors that will look great as a little pyramid in your bathroom, kitchen, home.
Best Quality & Best Value
Embossed for Extra Softness and Strength.
Each sheet has 3 layers that are made from 100% natural & premium bamboo fiber, along with the classic dots pattern together which grants each sheet extra softness and strength.
Plastic-free Packaging
We care for your bum and the earth. All packages are plastic-free, even the tape! And we are grateful to have you join us together building a better and eco-friendly future.
Septic Safe and Biodegradable
Unlike other regular bamboo toilet paper, Lovely Poo Poo bamboo TP is made of 100% premium bamboo fiber and will dissolve in water immediately in the drain.
Recycled Paper, FSC Certified Bamboo Product
We make our paper towels using only FSC-certified recycled paper fibers, so you can clean with comfort.
Join Lovely Poo Poo Community
Loved By Hundreds of Families
It's strong, so I can use less of it at a time without fear of issues, and so far it's less prone to causing toilet drains to clog with old plumbing. The more renewable paper made of bamboo instead of trees is kind of a plus, if only abstractly from my perspective, though I don't know off the top of my head if the shipping from the source is any better than for wood-based toilet paper. Great product and will most certainly buy again.

-- @Marcia Freed
-- 2022-04-01
I was quite disappointed when some bamboo TP was unavailable, so I had to look at other options. I am completely happy with LovelyPooPoo and will stay with this brand now! One thing about bamboo TP is that it doesn't stick or cling to you! I also think it's hilarious that people think that regular TP is made from cotton!!!!!

-- @Jessica Rosenbarger
-- 2022-04-05
Live the quality and convenience
A dream to not have to worry about keeping up with buying paper products
Stoft and strong TP
Quality to top brands of ply TP
I DO like your products, however, for me 12 boxes of forest friendly tissues is too much.
Great products serving an essential cause
These paper products are soft, strong and last longer than most wood based chemically produced paper products
Even better than anticipated
Very pleased with this purchase. Got the variety pack with toilet paper, paper towels and tissues. Toilet paper and paper towels are strong and absorbent. Tissues are softer than expected. Really pleased. Will be ordering again.
Don't Just Take Our Words
Hear what People Say
Free, Regular Delivery Right to your Door
Try Subscription
Save the trouble driving to supermarket and buy wood-made papers, with Poo Poo Regular. And We will deliver your eco-friendly bamboo paper to your front door on a regular basis. Cancel Any Time.
Learn More
Step 1
Choose "Subscribe & Save" before checkout
Step 2
We will deliver your skin-friendly Poo Poo product to your front door on a regular basis
Step 3
You will be billed automatically every month and can cancel anytime.
Better for the Planet
Saves the planet and go tree-free, our Bamboo Paper is FSC Certified and made of 100% organic premium bamboo fiber. It's super soft, and much better for the planet than regular toilet paper thanks to its eco-friendly materials and plastic-free packaging.
Better for you
Treat your skin to the softness of bamboo. Bamboo is naturally hypoallergenic, making our 3-ply toilet paper safe for everyone in the family. Safe for sensitive skin and made without inks or dyes that can irritate delicate skin.
Bamboo requires little water and no chemicals or pesticides to thrive, which provides us cleaner air and fresher water. In other words, those toilet paper rolls you used could probably be swapped out with something more environmentally friendly.
Bamboo Paper helps preserve forests, which nurture complex ecosystems and are home to 80% of the Earth's terrestrial biodiversity.
The tissue and paper products made from bamboo plants are as strong and soft as those made from trees and they're more sustainable because of that rapid growth cycle.
Maybe you're wondering
When will My Order Arrive

Your order may take up to 2 business days to process and may not ship until the next business day. Free Eco-friendly shipping typically arrive 3-5 business days after the order has been processed, but this ETA may vary based upon weather conditions or holidays.
How Is Poopoo Bamboo Products More Sustainable?

Being plastic free is very important to us, and has been an integral part of our mission from the outset. We studied many packaging options, including so-called environmentally friendly plastic options such as oxy-degradable plastic. However, given the unrealistic conditions needed for such plastics to degrade, we felt that paper was the most environmentally sound choice. We also took care to ensure that no plastic was present in our packaging tape, opting to use a kraft paper based eco packaging tape reinforced with glass fibres.
Is Bamboo Paper Soft?

- For softness – Nature's greatest toilet paper is a bamboo that results in extra soft and very durable toilet paper
How Do I Track My Order?

We will send you an email containing the tracking information once your order has been shipped from our US warehouse. And you can track the logistic status on https://www.17track.net/en using the tracking number provided. It normally takes around 3-5 days to receive your order depending on your location.
How Can I Return The Items?

If you're not happy with your product and would like a refund, please email us at hello@lovelypoopoo.com within 30 days of receiving your product and we'll arrange a refund. Please specify your order number (you can find it in your order confirmation email) and tell us what the problem is so we can do our best to fix it for next time!Learn More