Carbon-neutral Shipping
We Donate
370 Sheets/roll of 3-Ply Premium Tree-free Mega Roll. (As low as $0.004 per sheet)
Regular price
Sale price
$43.00 USD
$55.00 USD
Unit price
per
Sale
Sold out
Secure Payments:
View full details
TOP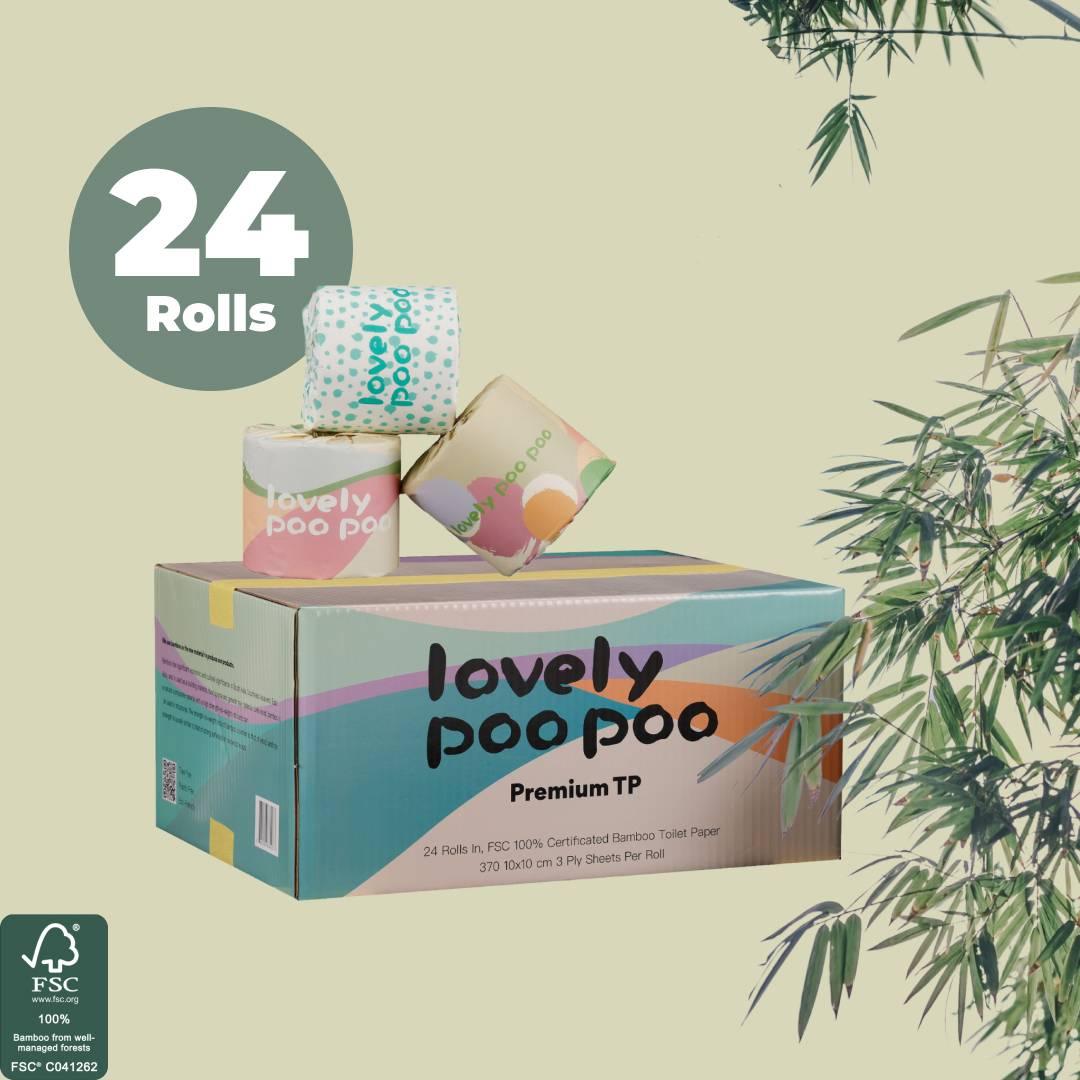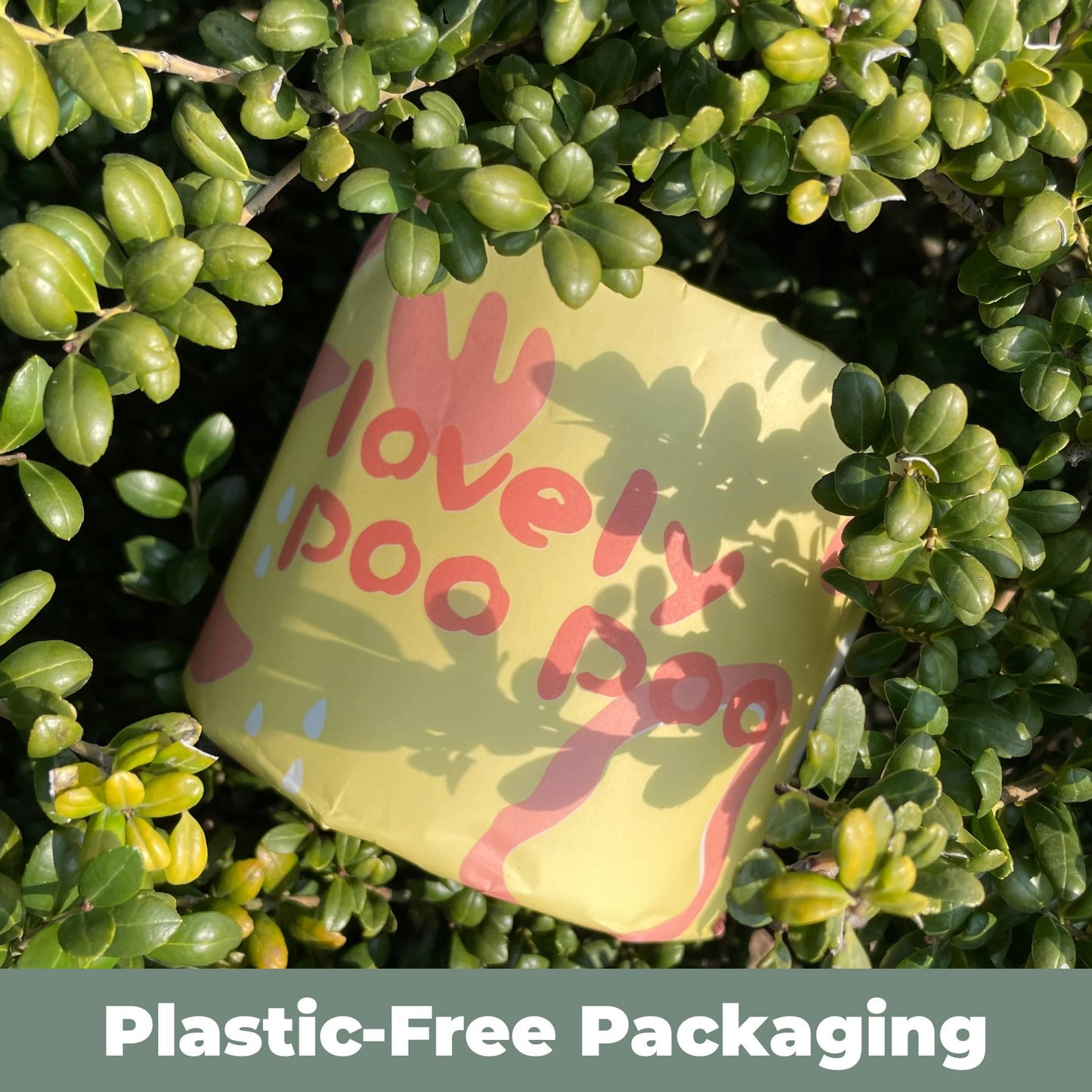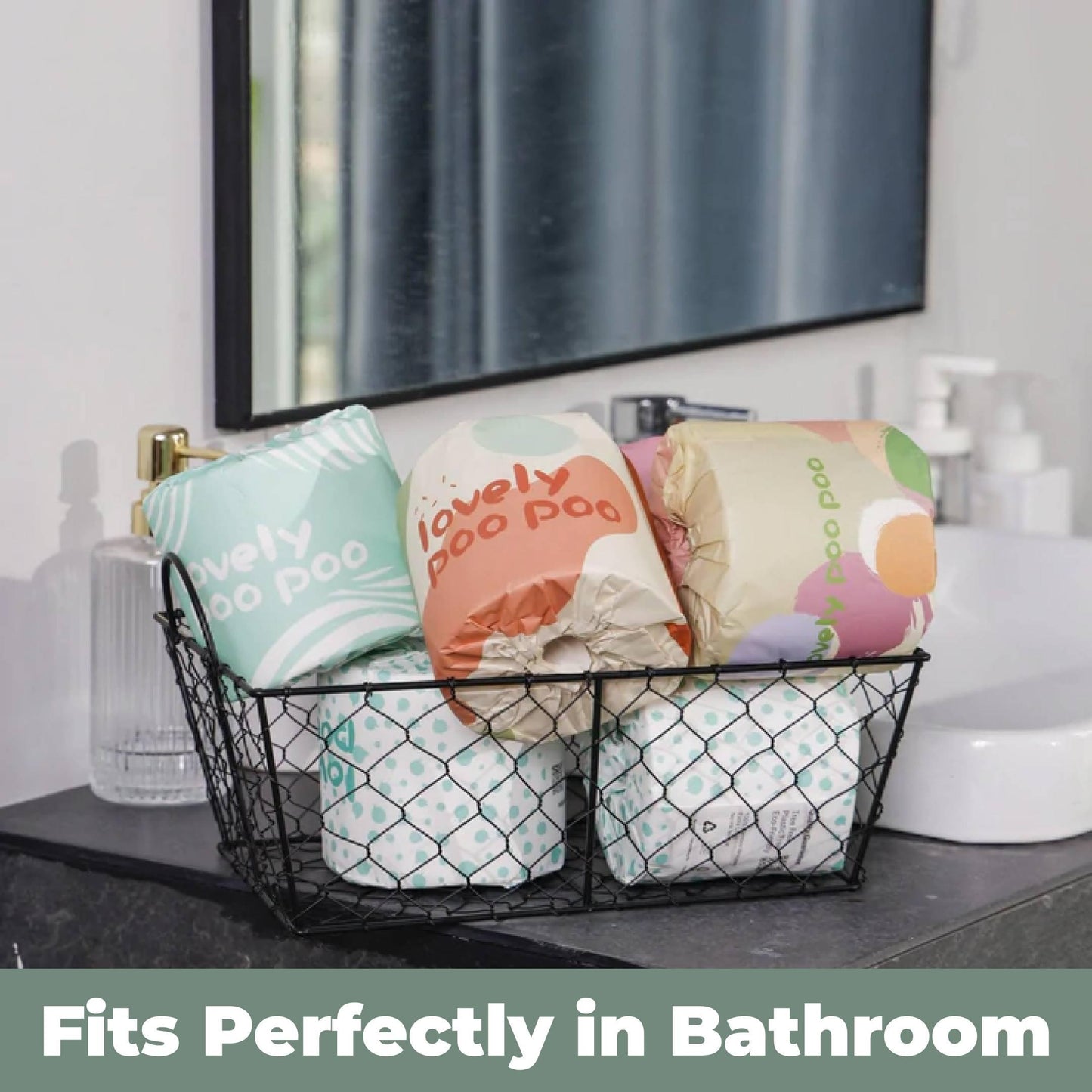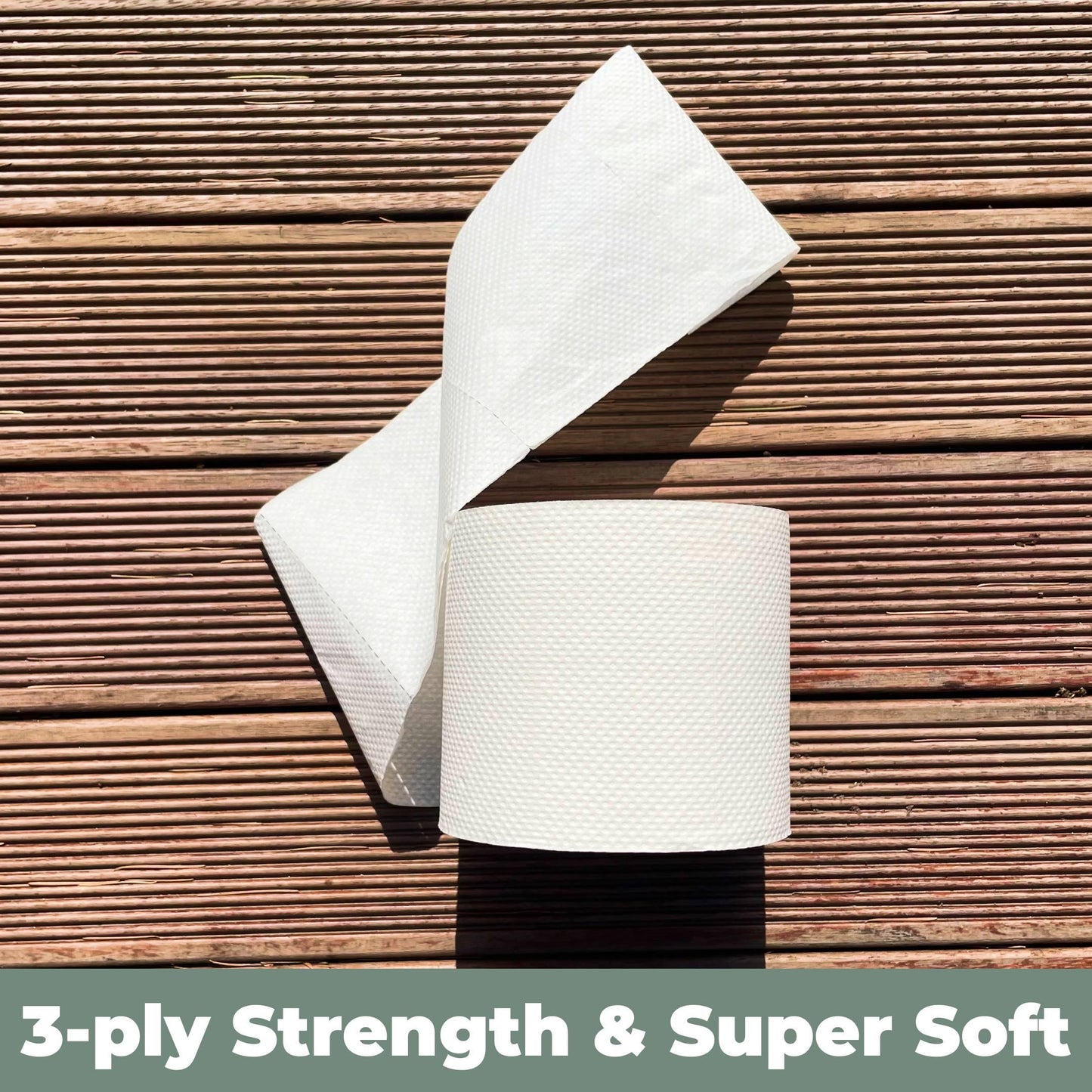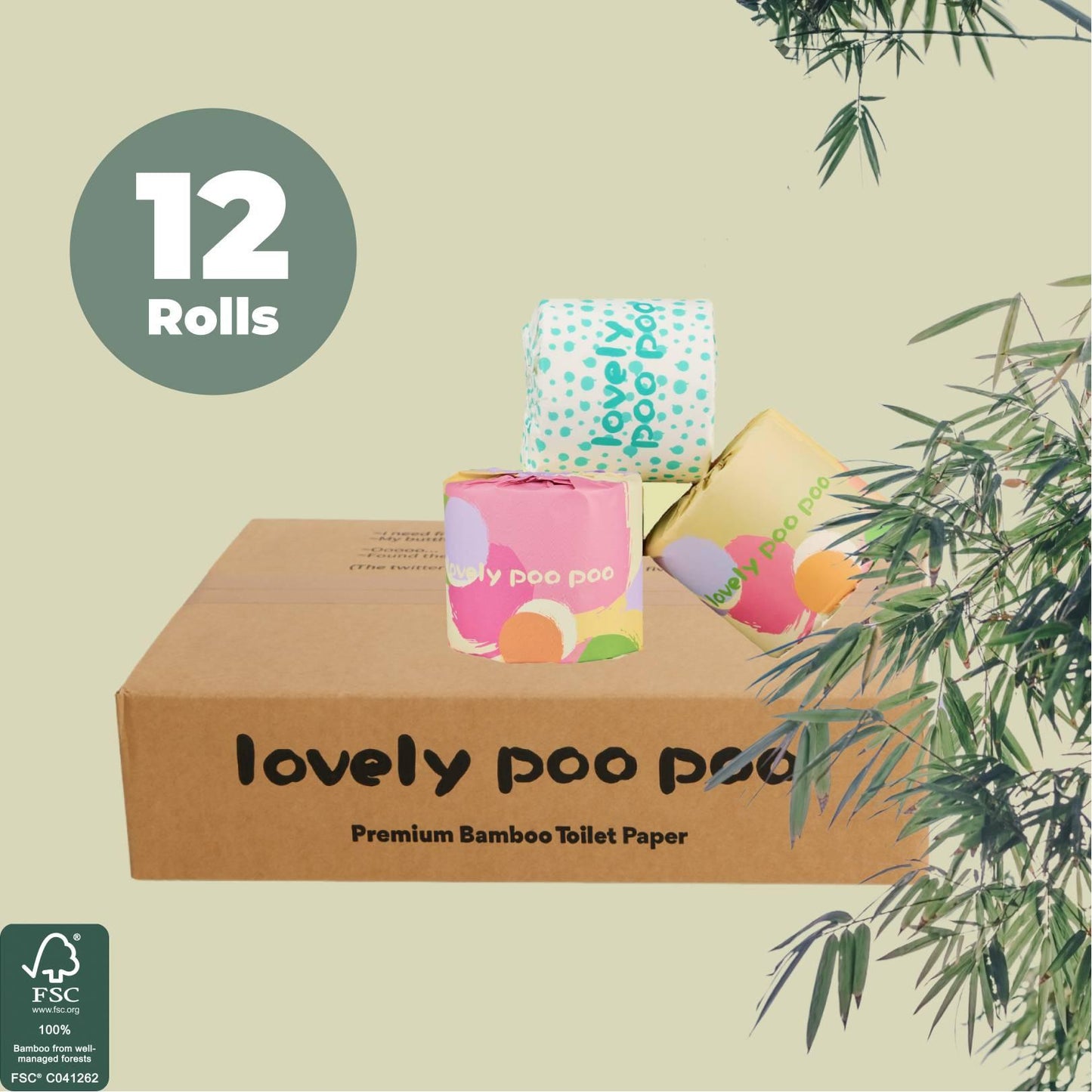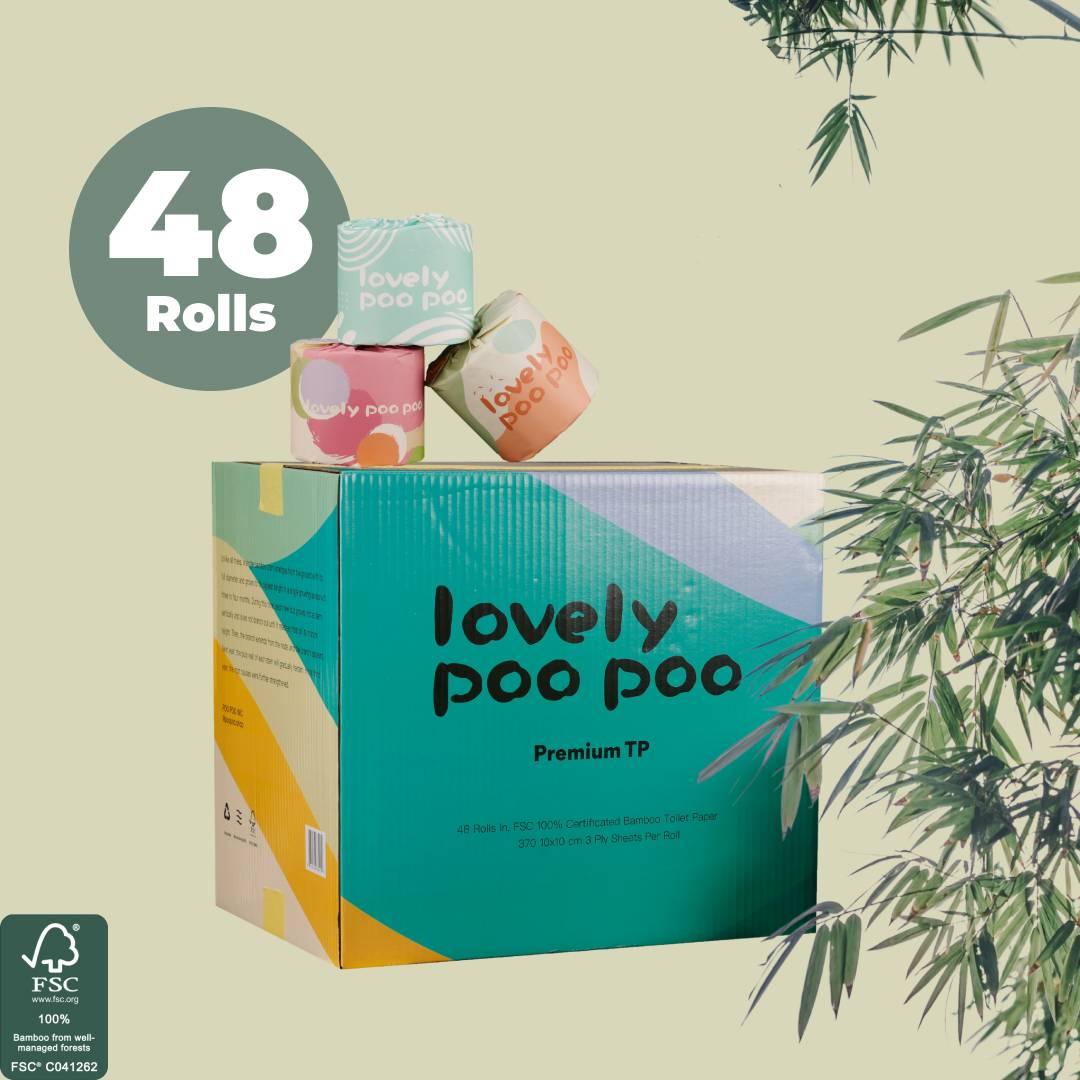 Ultra Soft

Embossed for that extra softness

Premium Bamboo

Made of FSC certificate premium bamboo fiber

Fragrance free

No Ink, No dyes, and no BPA. Perfect for sensitive skin

No Butt Crumble

3-Ply & 2x absorption. Does NOT rip or crumble in use.

100% Septic Safe

Septic safe with plastic-free Packaging

Plastic-Free

Wrapped with bamboo paper, Plastic free packaging
Better for
You

,
better for the

Planet

Believe it or not, 20 Million Trees are cut down every year just to wipe, which accounts for around 20% of the global deforstation.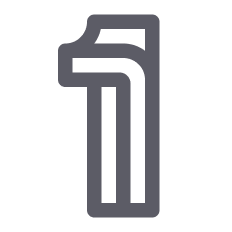 Reach Harvest Faster & More Sustainable
Bamboo reaches harvest maturity in 3 years, while it can take 50 years or more for A Tree.
Generates Less Green House Emissions
Bamboo Generates 30% Less Green Gass Emissions than Trees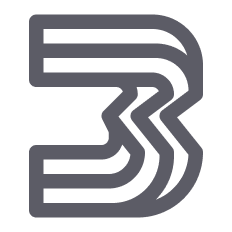 Uses Less Water to Grow
Bamboo Use 30% Less Water to grow than Trees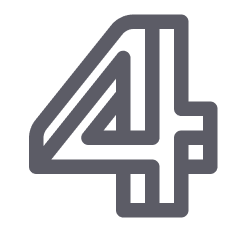 Generates More Oxygen
Bamboo emits 35% More Oxygen than Trees
Why People Love

Lovely Poo Poo
Best Quality with Best Value. They are Zero Wasted, Sustainable, Soft, Septic Safe, 3-Ply Strong, and naturally hypoallergenic, making our 3-ply toilet paper safe for sensitive skin and made without inks or dyes that can irritate delicate skin.
Zero Waste & Sustainable
We use FSC-certified Bamboo Only. Bamboo reaches harvest maturity in 3 years, while it can take 50 years or more for a Tree. Comparing to trees, Bamboo generates 30% Less Green Gass Emissions, use 30% Less Water to grow and 3emits 35% More Oxygen.
3-Ply Ultra Soft yet leaves no crumble
Each sheet has 3 layers that are made from 100% natural & premium bamboo fiber, along with the classic dots pattern together which grants each sheet extra softness and strength.
Cute Plastic-free Packaging
Each roll is individually wrapped in bamboo paper using naturally occurring colors that will look great as a little pyramid in your bathroom, kitchen, and home. And all packages are plastic-free, even the tape!
Septic Safe and Biodegradable
Unlike other regular bamboo toilet paper, Lovely Poo Poo bamboo TP is made of 100% premium bamboo fiber and will dissolve in water immediately in the drain

We Donate
Every Purchase Goes a
Long Way
We care for the planet the same as we care for your bum. We give back and make monthly donation to World Wildlife Fund, Inc. (WWF-US) with each purchase you made with us. And we are glad to have you together building a future in which people live in harmony with nature.
Join Lovely Poo Poo Community
Loved By Hundreds of Families
Great TP
I'm thrilled to have found Lovely Poo Poo, a natural TP nobody in my family complains about! I'm saving money, helping the environment, and wiping cleanly. Subscribing for my needs means I never run out and also do not have too much. Most of all, I love not having all of the plastic wrapping that comes on conventional TP. One more thing—I use the paper wrappers to line my counter top compost bin! Thank you!
I am not Bonnie
The toilet paper is great but get my name right.
Love it!
I absolutely love my Premium Bamboo Toilet Paper. I always have plenty on hand for everyone.
Premium Bamboo Toilet Paper
Free, Regular Delivery Right to your Door
Try Subscription
Save the trouble driving to supermarket and buy wood-made papers, with Poo Poo Regular. And We will deliver your eco-friendly bamboo paper to your front door on a regular basis. Cancel Any Time.
Learn More
Step 1
Choose "Subscribe & Save" before checkout
Step 2
We will deliver your skin-friendly Poo Poo product to your front door on a regular basis
Step 3
You will be billed automatically every month and can cancel anytime.
Maybe you're wondering
Is it Soft?

Our Bamboo Toilet Paper is Ultra Soft

Nature's greatest toilet paper is a bamboo that results in extra soft and very durable toilet paper
Is it Septic Safe?

Yes, Our Toilet Paper is 100% Septic Safe, and Biodegradable, and it will dissolve in water in seconds.
What is the Size of Each Sheet?

Each Toilet Paper Sheet is 100mm x 100 mm;
Each Paper Towel Sheet is 228mm x 22mm;
Each TIssue Sheet is 200mm x 20mm.
When will My Order Arrive

Standard Shipping Time:3-5 Business Days.

Your order may take up to 2 business days to process and may not ship until the next business day. Free Eco-friendly shipping typically arrive 3-5 business days after the order has been processed, but this ETA may vary based upon weather conditions or holidays.
How Do I Track My Order?

We will send you an email containing the tracking information once your order has been shipped from our US warehouse.

You can also track the logistic status here using your tracking number or account number. And It normally takes around 3-5 days to receive your order depending on your location.
What if I am Unhappy with my Order?

If you're not happy with your product and would like a refund, please email us at hello@lovelypoopoo.com within 30 days of receiving your product and we'll arrange a refund. Please specify your order number (you can find it in your order confirmation email) and tell us what the problem is so we can do our best to fix it for next time!
How Is Poopoo Bamboo Products Sustainable?

Being plastic free is very important to us, and has been an integral part of our mission from the outset. We studied many packaging options, including so-called environmentally friendly plastic options such as oxy-degradable plastic.

However, given the unrealistic conditions needed for such plastics to degrade, we felt that paper was the most environmentally sound choice. We also took care to ensure that no plastic was present in our packaging tape, opting to use a kraft paper based eco packaging tape reinforced with glass fibres.
How Much TP Do I Need

3-5 Lovely Poo Poo TP Rolls/Person/Month.Legend has it the average person uses around 1.5 rolls of toilet paper per week! therefore we have calculated 1 person will use around 3-5 rolls/month!
Don't Just Take Our Words
Hear what People Say