This is "Lovely Poo Poo" !
Lovely Poo Poo is an American startup based in Spokane, Seattle. Since the company's establishment in 2021, we share a strong belief in protecting our planet. It's the only earth, and we believe everyone living here has the responsibility to protect and save it. Toilet paper is one of the necessities in our basic life, and virgin pulp has been the primary raw material in this industry for a long time. However, because of the high demand, deforestation has become more serious. We are fully aware of what human beings face right now in this situation, and we need to take action. Therefore, we choose traditional toilet paper, which is used most frequently, as our target, and change it to a sustainable green alternative – bamboo toilet paper---
https://www.lovelypoopoo.com/products/soft-strong-370-sheets-3-ply-bamboo-tp-48-rolls-best-value our signature product. We choose bamboo as our raw material because it can benefit both customers and the environment. 
On the one hand, it can grow ten to twenty times faster than trees. There is not a strict standard for its growing environment. It does not need to be replanted after being harvested. These characteristics contribute to bamboo being more sustainable as a material. On the other hand, bamboo fiber and heavy investment in paper-making technology are soft but strong. We hope customers won't tell the differences between bamboo toilet paper and the traditional one when they use it. It will be a long way to switch from traditional toilet paper to bamboo toilet paper. We are committed to making it soft enough to dissolve in the water quickly but strong enough with 3 plys shields that will not tear apart while using it.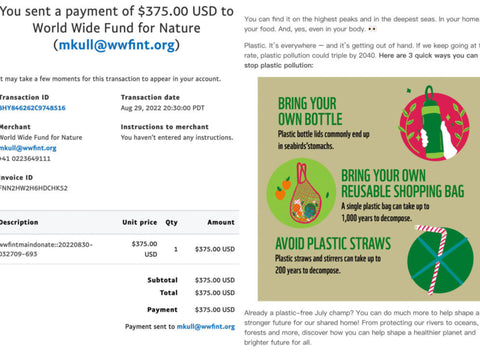 Donation for pandas is part of our plans and will be one thing we decide to do continuously. Deforestation means destroying trees and means lots of habitats and ecosystems have been destroyed. We choose to save giant pandas because while we are saving giant pandas, it also means we are saving so much more. We have limited abilities and can't do everything. So, we will only focus on one thing and try our best to make some difference. We don't want to be part of deforestation. We want to be sustainable. That's why we make bamboo toilet paper. We value our planet – the only earth. That's why we make bamboo toilet paper. We consider making sustainable, great-quality, and safe bamboo toilet paper as our responsibility to our planet and customers. Saving the world, fighting against deforestation, and protecting pandas, are always the missions that Lovely Poo Poo has. Because of these missions, Lovely Poo Poo utilizes sustainable raw materials and eco-friendly and chemical-free methods to make the best bamboo toilet paper. We wish that we can raise people's awareness and influence their lifestyle to be more eco-friendly for our planet. As our slogan said, wish you can poo with a better wipe!
Where Is "Lovely Poo Poo" From?
Recently, we have received many negative comments about my name. We think it is time to tell you guys this story about how we got our name "Lovely Poo Poo"!
It's from our creative director's head. He is a huge fan of YouTube and is especially interested in the topic "baby". At the very beginning of this bamboo toilet paper business, he was so struggling to come up with our name. One day, when he was watching YouTube, the algorithm recommended him a video of Trav and Cro. He watched this super popular (at that time) # PooPoo Dance.

Link: https://www.youtube.com/watch?v=Grr09LaSHWA&t=286s&ab_channel=TravandCor
Why We Called "Lovely Poo Poo" ?
The "AHA" moment pops up in his head and decided "Yes, let's use this word – Poo Poo! Our customers can do poo poo dance with our bamboo toilet paper!" But then he felt, yea, probably "poo poo" is too straightforward, and it is mainly used by lovely little kids, so let's call it "Lovely Poo Poo". There are different layers of meanings in this name:
Wish people can always have a wonderful (lovely) poo poo experience.
Toilet paper is a necessity whenever they go to the toilet. When they go to the toilet, wish people can remember our bamboo toilet paper brand: Lovely Poo Poo.
"Poo Poo" is mainly used by little kids, we also try to convey the information that no matter how old you are, please maintain childlike innocence, and Live Young.
Little kids also mean SIMPLE. It is exactly like the description of ingredients in making our bamboo toilet paper – simple. Tree-free, fragrance-free, BPA-free, formaldehyde-free, chlorine-free, chemicals-free, 100% bamboo.
Persuading the boss
When he told our boss this name at first, our boss didn't like it at all and felt it is not appropriate. But he used 2 days to explain to our boss where this name is from, how impressive it can be, and the deep meaning of Lovely Poo Poo that he tries to present AND he guaranteed that people will understand our name and they will definitely love it. Finally, our boss said yes and used this name to start the whole business. (https://www.lovelypoopoo.com/products.html)

It does become very impressive…
Unfortunately, with more people knowing us, we received more and more negative comments about our name. It is more obvious that people don't really get the deeper meaning of our name and they don't accept that (but it is really impressive). Our boss kicked our creative director a** (but don't worry it's not painful) and he started to realize people really can't understand his talent. But because we have contributed a lot to this name of the brand. So we have to accept it. Now we are thinking when people see our name, they will feel ''whattt??', then they probably will go to our website to see who we are and why this name is due to their curiosity. But we actually are devoting ourselves to making the best products, so when they see our website, they will feel "hmm, these products look not bad!", then they probably would like to try and then just click the add to the cart button and pay! --- https://www.lovelypoopoo.com/collections/all
Finally, they will have a splendid purchasing experience with us!
Yea that's just speculation. Hopefully, it will work.